One of the founding fathers of the Creation Science movement, Dr John Whitcomb returned back home February 5. He was aged 95. We re-post here an obituary written by Ken Ham of Answers in Genesis.
https://answersingenesis.org/blogs/ken-ham/2020/02/05/dr-john-whitcomb-passes-away
/
=======================================
Dr. John Whitcomb, his wife Norma, and Dr. Tim LaHaye visited the Ark Encounter on its opening day in 2016.
In a Facebook post from Whitcomb Ministries, Inc., it was announced this morning that theologian
Dr. John Whitcomb
, the co-author of
The Genesis Flood
and a giant in the modern creation movement, "entered into heavenly glory last night in his sleep." He was 95 years old. While we grieve the loss of this great man, we're thankful that he is reaping his heavenly reward for his faithful service to his Maker here on earth.
Dr. Whitcomb greatly impacted my life. During my final year of university studies in 1974, I first obtained a copy of his book
The Genesis Flood
(co-authored with the late
Dr. Henry Morris
). This book, along with others I had gotten, gave me biblical and scientific answers to those who attacked the record of the flood in Genesis.
This was one of the first books we sold in the ministry that began in our home in Australia in 1977 that eventually became the Answers in Genesis organization that now impacts tens of millions of people a year around the world. It was a book I showed my father, and he was so thrilled to see answers to the objections so many people in the church raised against taking the flood account literally.
There's no doubt
The Genesis Flood
has been significantly used by the Lord as part of the foundation of the modern biblical creation movement. This movement is a worldwide one, and I believe it is having a major impact in helping bring a new and very needed Reformation to call the church back to the authority of God's Word, beginning in Genesis.
I have met numerous people around the world, including pastors, teachers, professors, and others, who told me that it was
The Genesis Flood
that saved them from the liberal teaching that was undermining God's Word in Genesis at their seminary, Christian college, or Bible college. I believe such examples are more than we could ever imagine.
I never thought I would one day meet Dr. Whitcomb but was so thrilled to meet this great man of God after we moved to the United States. I do believe he is one of the greatest theologians this world has seen, and we will so miss him. It was so exciting to have Dr. Whitcomb at the
dedication of the land
for the Creation Museum in 2000. He prayed a dedication prayer that day, and the Lord has greatly blessed this teaching attraction. Dr. Whitcomb also participated in the opening of the Creation Museum in 2007, and the
dedication of the land for the Ark
Encounter in 2014.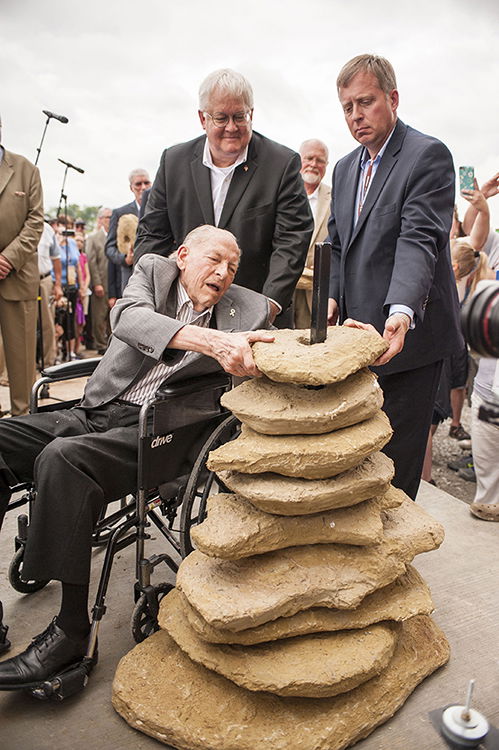 +
In 2016, when we opened the Ark Encounter, Dr. Whitcomb, who had agreed to be on the board of directors for this evangelistic attraction, along with the board members of Answers in Genesis,
laid one of the stones
of the 12-stones memorial in a ceremony before thousands of people. As I said at the time, the Ark was "our 12 stones, to stand as a memorial to remind generations of the truth of God's Word and the gospel."
One of our board members shared,
What a giant of the faith. One of the kindest men I ever met. He was an excellent speaker as well. I heard him speak at several churches, maybe 10 – 15 years ago. He will be missed.
Dr. Whitcomb's legacy lives on through the ministries of Answers in Genesis, the Ark Encounter, and the Creation Museum, impacting millions and millions of people, directly and indirectly, each year. I can honestly say that we at Answers in Genesis stand on the shoulders of great men like Dr. Whitcomb.
I pray God will raise up others to stand on our shoulders now, as this legacy continues to grow and impact the church and culture.
People will look back on this time in history, and just as we think about greats like Martin Luther, John Calvin, John Wesley, George Whitfield, and others, they will talk about Dr. Whitcomb. Truly, one of the greats the Lord raised up for a specific time in history for a great purpose to shine the light of God's Word brightly. He will never be forgotten.
Thanks for stopping by and thanks for praying,
Ken
This item was written with the assistance of AiG's research team.